Boat Buying Guide
We have provided this guide to help make your boat buying experience more fun during and after the sale. You may want to print this page and use this as a shopping guide at the Boat Show.

Whether your a seasoned captain or new to the boating scene, being ready with some basic knowledge will make your purchase more rewarding.

If you know someone who may be in the market for a boat, do them a favor and point them to this guide.
---
American families face more demands on their time than ever before. With the hectic pace of modern life, it's increasingly important for families to find fun, meaningful ways to reconnect. For millions of families, boating is an opportunity to spend some quality time together. Anyone who's fished with grandpa or gone water skiing with mom and dad will never forget the experience. Boating is a great way to slow down and enjoy nature, get some fresh air and unwind with loved ones.
When shopping for a boat, researching your needs are important. While we all want everything, you need to make a list of what your boating expectations are and use this for a general guide. If fishing is a major concern, a live well and rod storage will be important to you. If it's skiing, then a good boarding ladder and ski tow is a necessity. Storage space on a boat is very important. Dry storage for skis, jackets, safety equipment and other equipment is a must.
Be sure to look at the boats features thoroughly to see if your needs will be met. If the salesperson cannot give you several features and benefits that cater to your needs, then that particular boat may not warrant a second look. A basic need that applies to all boats is storage for the items you will bring on board. Other items may include a storage container for trash and maybe even a removable cooler to give you the flexibility to easily transport your goods to your favorite picnic spot or even back home at the end of a fabulous boating adventure.
Fishermen and fisherwomen need to check the size of the live well to see if it realistically can hold your catch. A short well may be fine for panfish, but will be unable to hold bigger game fish. Rod storage is also important. Make sure the storage is long enough to hold your rods, offers some type of protection like carpet, and is lockable to protect your expensive equipment from getting stolen.
Don't let yourself get talked into important ad on's after the sale. Equipment such as a depth finder is crucial and should be figured in as part of the package deal. Make sure the necessary safety equipment is also priced into the package. On larger boats, items like a wiper, compass, spot light, shore power, aft shower, trim tabs and a VHF radio may be important items you want. Make sure you take the time to go over such equipment lists and that the items that are important to you are figured into the initial price. This will avoid from having to add them in later making a good deal not such a deal at all. And pricing all the wants and needs up front will also make comparison shopping easier.
5 Important Questions You Need To Ask
#1. How many people can I fit on this boat? A good question to ask, but first know your needs. If you have a family of six that will be boating, don't buy a boat that will only seat four comfortably. Too small of a boat will make for a bad time the first time on the water. On the other hand, if only a couple plan on using the boat, then sizing the boat capacity accordingly will make for easier handling. A boats capacity plate may say eight but only have seating for six, don't be talked into to smaller or larger boat than what meets your requirements. Also inquire about any additional seating options that may be available and added to the boat later on, and be sure to get an exact cost on doing so. A good salesperson will be happy to advise you of a comfortable seating capacity and help you choose the right boat.
#2. Can I tow this boat with my current vehicle? If you plan on seasonal dockage, towing will not be a consideration. However, make sure you have a friend that can tow it to the marina, or make sure the dealer can provide delivery. If you plan on being adventurous, you may not want to look at a large cruiser if you only have a small tow vehicle. If you have a specific boat in mind, simply check the boat package towing weight and compare it to your vehicles towing capacity. A good dealer can usually help you with this information.
#3. How big of a motor am I going to need, really? That depends on your needs. If simply looking for a quite cruise or leisure fishing outing, the minimum power recommendation or 30% less than the maximum rated will be fine. If your going to take family cruises, single person tube towing and venture long distances, go with the mid range power recommendation or 15% less than maximum rated. If skiing and multiple person tubing is what your looking for then go for the higher horsepower choice of 10% less than maximum rated or choose the maximum rated horsepower for the boat.
Remember two things, the smallest horsepower choice may not always be the most fuel efficient, and the biggest available engine may not be necessary. A good salesperson will be happy to help you choose the engine size that is right for your needs. Be sure to ask for information on top speed, planing power and times, and any performance specifications that may provide help in determining your engine requirements for a particular boat and use.
#4. Can I get service after the sale? Perhaps the most important thing to learn about a dealership is it's reputation for service when the sale is complete. Ask for referrals from the dealership. If the salesperson won't provide any, there may be a reason. If you have a friend into boating, he or she will be a good source for such information. Remember, buying from a dealership that does not take care of it's customers after the sale, can take your whole boating experience from good to bad in a heartbeat.
#5. How can I get help to make my decision? Take your spouse or a friend! Your greatest asset when shopping for your dreamboat may be your better half, or a friend who has owned a boat or two. He or she may see things in a different light than you do. While you may be concerned on specific features, they may point out other details and features that will help you make a better decision on a boat that's right for you and yours and for the way your going to use it.
Happy boat shopping!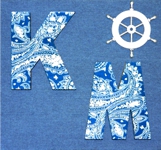 ---