Get a Nautical Sense of Humor
---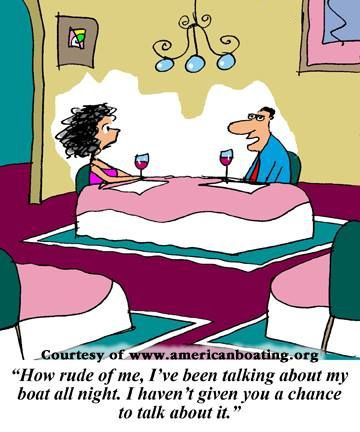 Whatever It Takes To Get You On The Water
Lame But Useful Excuses
To fake an injury successfully without detection, one must have a basic knowledge of first aid, the human anatomy and proper bandaging techniques.
Feigning a sprained ankle is a credible ploy to get you out of work and on the water for a couple of days. For prolonged absences, a simple fracture is the recommended artifice. If you have a scar from a previous injury, treat it as a compound fracture. It will be very convincing. For other injuries, consult a physician.
It is especially critical with lower body injuries to be consistent. Always limp on the same leg or foot. Failure to do so may put you at risk.
Remember to grunt when walking and complain of pain a few days after you return to work. Don't go overboard with the moaning and groaning, just enough to get some sympathy from fellow workers. If you are doing it correctly, somebody will volunteer to get you coffee.
Take photographs. Documentation is vital. Get an alibi from a reliable friend, preferably a co-worker with a perfect attendance record. Remember to wince for the camera, don't smile.
Avoid exposure. Use a 45 or higher sunscreen. Come back to work looking as pale as possible. A tan will arouse suspicion. Exposure to the sun can result in embarrassing blemishes on your work record.
---
IT'S NOT MY JOB TO RUN THIS BOAT, THE HORN I CANNOT BLOW.
IT'S NOT MY JOB TO SAY HOW FAR THIS BOAT'S ALLOWED TO GO.
IT'S NOT MY JOB TO THROTTLE UP, OR EVEN CLANG THE BELL.
BUT LET THIS DAMN BOAT HIT THE DOCK, AND SEE WHO CATCHES HELL.
I AM NOT A FAST CAPTAIN. I AM NOT A SLOW CAPTAIN. I AM A HALF FAST CAPTAIN.
ALL FISHERMEN ARE LIARS EXCEPT YOU AND ME. AND I'M NOT SO SURE ABOUT YOU.
ONCE I THOUGHT I WAS WRONG, BUT I WAS MISTAKEN.
GREEN IS GREEN. RED IS RED. ALL IS WELL, GO AHEAD.
WHEN IN DANGER OR IN DOUBT, RUN IN CIRCLES, SCREAM AND SHOUT.
OLD BOATERS NEVER DIE, THEY JUST GET A LITTLE DINGHY.
WE INTERRUPT THIS MARRIAGE FOR THE DURATION OF THE BOATING SEASON!
THE CAPTAIN IS ALWAYS RIGHT.
MISINFORMED PERHAPS, SLOPPY, CRUDE, BULL HEADED, FICKLE, EVEN STUPID,
BUT NEVER WRONG.
DINGHY A DARK, DIRTY PLACE.
STRUT A PECULIAR WAY OF WALKING EMPLOYED BY WOMEN.
RUDDER A NAME FOR PEOPLE HAVING RUDDY COMPLEXIONS.
PROP WHAT YOU USE YOUR ARM FOR TO SUPPORT YOUR CHIN.
PORT WHAT YOU DRINK AT A BAR.
STARBOARD A LISTLESS MOVIE ACTOR.
BOW WHAT YOU DO AFTER PERFORMING AN OUTSTANDING DOCKING MANEUVER.
STERN THE WAY YOU FEEL AFTER BASHING THE DOCK.
SCUPPER THE MEAL AFTER LUNCH.
SLIP THE NEXT TO LAST ARTICLE OF CLOTHING A WOMAN REMOVES.
BERTH SOMETIMES THE RESULT OF REMOVING THE LAST ARTICLE OF CLOTHING.
FREEBOARD A CRUISE ON A VESSEL THAT YOU DON'T PAY FOR.
DOCKLINE DIRECT TELEPHONE ACCESS TO A PHYSICIAN.
FLYING BRIDGE A TYPE OF CARD GAME PLAYED ON A SEA PLANE.
SEACOCK A NAUTICAL ROOSTER.
BULKHEAD A BOATER WITH A VERY LARGE CRANIUM.
FUEL TANKS GIVING THANKS FOR HAVING ENOUGH FUEL ON BOARD.
WINDWARD SECTION OF A HOSPITAL FOR BOATER WITH CHRONIC GAS PROBLEMS.
WINDLASS CONDITION RESULTING FROM SUCCESSFUL TREATMENT IN A WINDWARD.
CHINE WHAT THE SUN DOES.
OAR A WOMAN OF ILL REPUTE.
OAR LOCK SECURITY DEVICE THAT WOMEN OF ILL REPUTE HAVE ON THEIR DOORS.
SKEG WHAT BEER COMES IN.

Return To DockSide